Discover A Better Lake Elsinore Window Cleaning Experience!
Our family-owned business has been Cleaning Windows in Lake Elsinore since 2002. Not only do we have a reputation for spotless windows, but for providing the kind of customer service that makes you want to do business with us again.
Our professional, uniformed, on-time and friendly professional window cleaners leave your windows streak free and crystal clear.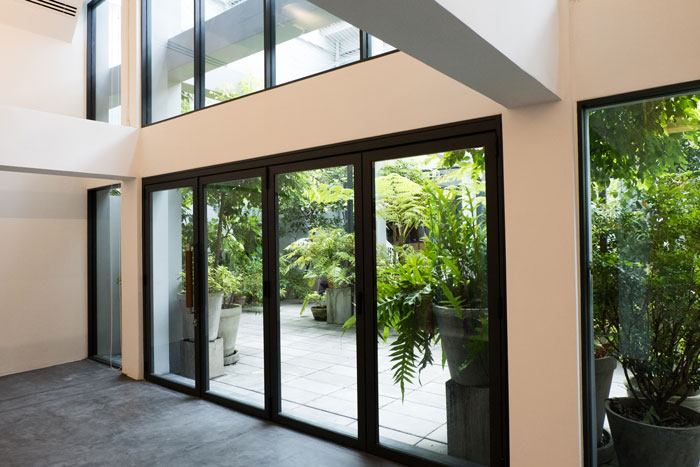 Lake Elsinore is known for its beautiful views of the surrounding mountains, natural structures, and the lake giving the city its name. Dirty or smudged windows can obstruct the view and detract from the natural beauty of the area. Let us help you enjoy the views and more natural light with clean windows.
Reviews are usually a good indicator of what you can expect from a Lake Elsinore window washing company!
Words inside [ ] added for clarification.
Best Window Cleaning Riverside
I have used this business [Raincross Window Cleaning Riverside] several times. I think they do a great job, always on time and are fast but get the job done just right, I always have them power wash the house and sidewalks and clean the windows inside and out, they actually clean the screens too. I will keep using them. I think they are the best in Riverside.
— Vicki S.
Great work!
Great work!! Professional, showed up on time, pleasant to work with. Would definitely use them [Raincross Window Cleaning – Riverside] again.
— Ellen W.
Our heavily water spotted windows looking brand new!
Raincross [Window Cleaning] had our heavily water spotted windows looking brand new on our home before we listed it for sale. Came out great. Gary and his staff were a pleasure to do business with. Thanks guys.
— Evox_Connor_ (From Google Reviews)
Sparkling clean windows!
Always a pleasure to have RainCross [Window Cleaning Lake Elsinore] clean our windows. Long time customer. Mike is friendly and efficient. Sparkling clean windows!! Thank you!
— Charlene Wissing (From Google Reviews)

I would give a 10 stars!
Thank you Raincross Window Cleaning service. This is the second time I used them. I would give a 10 stars .The people they send to clean the windows are always friendly and do a wonderful job. Thank you Tommy for leaving my windows beautiful.
— Alma Gould (From Google Reviews)
I would definitely recommend them...
I would definitely recommend them… We have a room that is completely glass. I have used them for years…usually… before the holidays…They are just very responsive and very nice…family company.
— Philip H. (Angie's List)

Need a Lake Elsinore window cleaner? Hire these guys.
If you need a Lake Elsinore window cleaner, hire these guys. I can confidently say they are the absolute best. The gentleman who came to my house cleaned all of our windows, scrubbed every screen, scraped overspray off of my French doors, cleaned my mirrors inside and washed my attic windows... Such an incredible deal, and the guy was just as pleasant as possible.
I don't usually write reviews, but I want to help this company out however I can because I am so grateful for the service I received.
— Steffen S. (yelp.com)

We Give All Of Our Lake Elsinore Window Cleaning Clients
Whether a one-time residential window cleaning or a weekly commercial window cleaning service, our pricing is straightforward and upfront.
We discuss and get your approval on all fees before we start the job, so there are no surprises for our Lake Elsinore window cleaning clients.
Professional Window Cleaning Experience
Our friendly Lake Elsinore window cleaners know what they are doing and take great effort to protect your floors and interior as well as your landscape outside while providing you perfectly clean windows.
Nobody takes better care of your property (or your windows) than Raincross Window Cleaning.
Flexible On-Time Appointments
While we are a family run business, we are a lot more than just mom & pop. On any given day we keep multiple trucks and crews busy.
This allows us to better work around your schedule and provide convenient appointments.
Additionally, we'll call will let you know when were in-route and arrive on time.
Water Spot Removal & Neglected Glass Cleaning Specialists
Let's face it, cleaning windows in Lake Elsinore can be a challenge because of the hard water in Southern California. Over time minerals build up on the glass creating spots and a foggy coat on the outside of the windows.
Our environmentally friendly cleaners remove years of buildup and neglect in a single afternoon, restoring your windows to their original luster.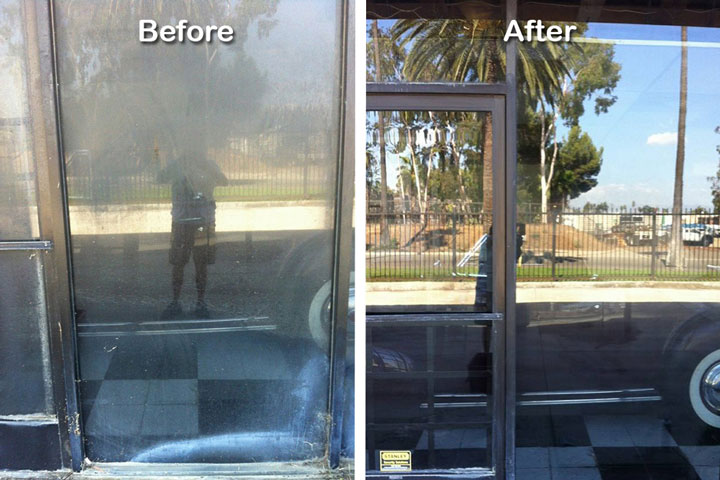 Prices for Lake Elsinore Window Cleaning
Our average pricing for Lake Elsinore window cleaning is between $125 – $175.
For an exact price we need to know the number of windows, number of stories and obstacles, type of glass, and the depth of cleaning needed (thick water spot film or just standard dirty).
We Love Cleaning Windows in Lake Elsinore!
Of course, what's not to enjoy when Lake Elsinore is known for:
Several annual events and festivals, such as the Lake Elsinore Grand Prix and the Dia De Los Muerto Celebration.
Sports and Recreational Facilities
Lake Elsinore has many parks and recreational facilities, including hiking trails, sports fields, and playgrounds, can be enjoyed by residents and visitors alike.
A popular minor league baseball team (an affiliate of San Diego Padres) based in Lake Elsniore. They have a dedicated fan base and are known for their thrilling games and entertaining atmosphere at their home stadium, The Diamond. Some of the Major Leaguers that have their roots here include Some players who have played here include Trevor Hoffman, Jake Peavy, David Freese, Adam Wainwrite and Chase Headley
The Super Bloom in Lake Elsinore was back in 2019 when a massive number of wildflowers bloomed in the surrounding hills and valleys, most notably in Walker Canyon located on the outskirts of Lake Elsinore.
While Window Cleaning in Lake Elsinore Will Always Be Our Focus
We Do More Than Just Clean Windows!
And We Will Give You A Package Price
When You Combine Any Of These Services 
With Your Lake Elsinore Window Cleaning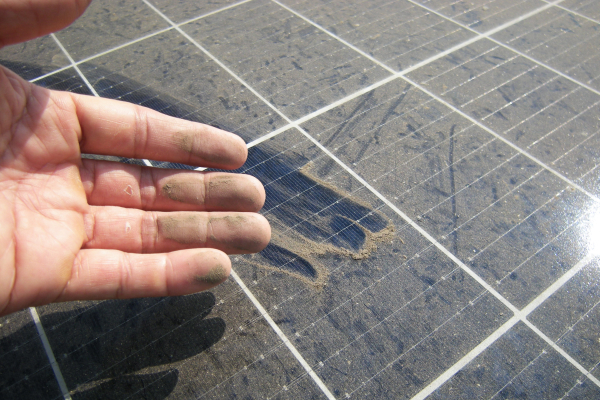 Solar Panel Cleaning
Lake Elsinore
Most solar panel owners believe rain cleans their panels jut fine, but if that was true why are the outside of your windows dirty? Just as your car's windshield gets dirtier during the rainy season, the same actually happens to your panels.
Cleaning your panels improves efficiency, keeps the warranty in effect, reduces ROI time, and projects a clean green image to neighbors.
Get a quote for us to clean your solar panels while we clean your windows.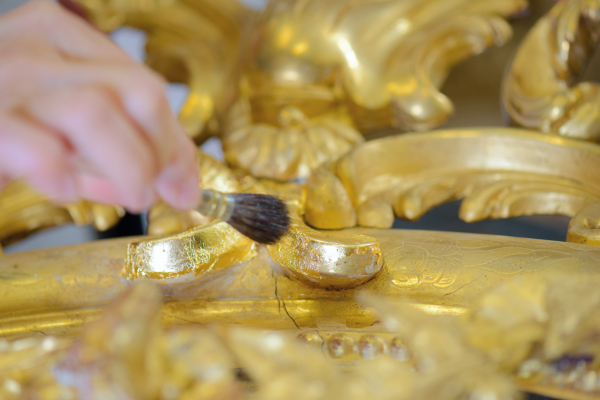 Chandelier Cleaning
Lake Elsinore
Even though chandeliers are on the inside, they get just as dirty and dull as windows.  They will often get coated with a film that just makes them lose their sparkle.
We can restore the luster of light coming through the crystal and the body of your chandelier, restoring it to the brilliance it once had. Even if we need to take it apart and clean each crystal by hand, it will look magnificent when we are done.
We also clean all types of interior and exterior light fixtures.
Get a quote to make your lights more beautiful while we are there cleaning your windows.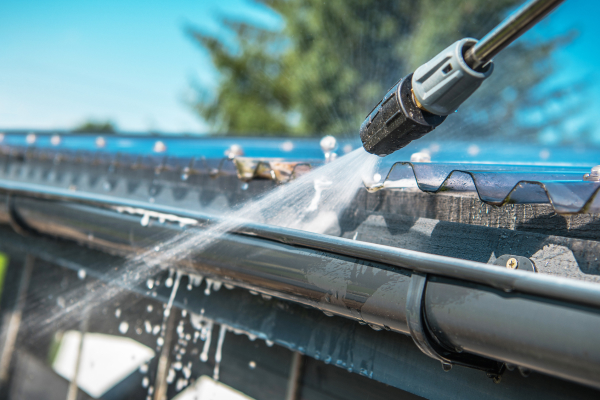 Raingutter Cleaning
Lake Elsinore
Clogged or leaking rain gutters are worse than not having any.  The extra weight puts stress on channels and gutters and causes premature wear on the structures that support them.
Let us make your gutters work properly and look new again by cleaning, flushing and repairing them.  Proper working rain gutters direct the water away from your home minimizing potential damage with heavy rains.
It's too late to call when it is raining. Get a quote for us to clean your gutters when we clean your windows.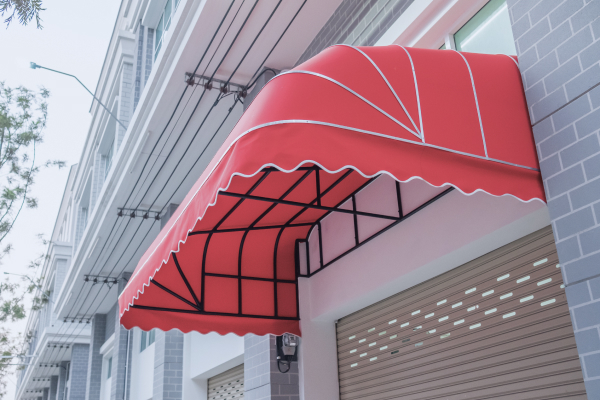 Awning Cleaning
Lake Elsinore
Having your awnings cleaned and conditioned on a routine schedule will keep them looking good and last longer. It is important to minimize the effects of auto exhaust and smog by washing them clean.
The same equipment we use to clean windows is ideal to clean awnings.
Get a quote for us to clean your awnings when we clean your windows.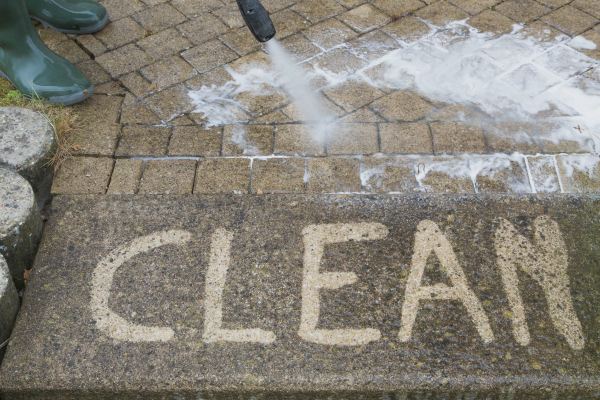 Pressure Washing
Lake Elsinore
Over time grime just builds up. Give your surfaces a rejuvenated look with a thorough pressure washing.  We can remove years of neglect and make your tile roof, patios, walkways and driveways look fresh.
Get a quote for us pressure wash your areas when we clean your windows.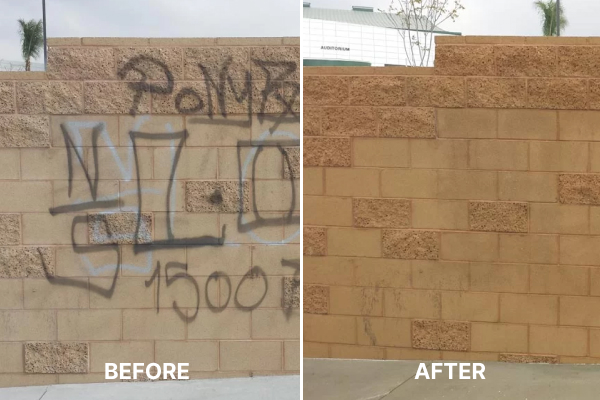 Graffiti Removal
Lake Elsinore
Because most graffiti is paint based, some areas require the water used to remove it to be reclaimed (and disposed of in an eco-safe manner). Our system removes graffiti in a safe manner and can reclaim the water so you are in compliance with municipal ordinances.
Since these jobs really affect the image of neighborhoods and business, we make them a priority and can often respond in 24 hours or less.
Frequently Asked Questions
What Areas Do You Serve?
We clean windows for homes and businesses throughout the Inland Empire and are the preferred window cleaning company in Lake Elsinore including zip codes of 92530, 92531, 92532 and surround areas.
Call us at (951) 363-2639 to find out the next time we will be washing windows in Lake Elsinore, and we can clean yours too!
Are Your Chemicals Toxic or Caustic
We use professional grade bio-degradable, environmentally safe products for all our cleaning services. They should not cause any unfavorable reactions or residual smell.
How Often Should I Have My Windows Cleaned?
To maintain clean windows residential customers should have their windows cleaned every 3 months on the outside and every 6 months on the inside.
For restaurants and other businesses where first impressions are critical, we suggest a weekly service. For most other businesses a monthly service works well.
Call us at (951) 363-2639 and let's figure out what is right for you.
How Trustworthy Are Your Employees?
We go to great lengths to hire trustworthy and reliable window cleaners. Our employees are truly our greatest asset. We are very selective as to who we hire, we pay them well, and trust them with company vehicles.
Our employees have had a thorough background check, are fluent in English, and are good people. As a result, they do excellent work, and often get requested by name for future services.
While we are confident in our employees, accidents and incidents can happen which is why we carry full liability and workers comp insurance on every employee on every job, yet another reason we are the preferred window cleaning Lake Elsinore company.
What Are Your Hours?
Our hours are 9 to 5 Monday through Friday, and weekends by appointment.
However, the reality is that we get our messages right to our phones and will try to reply to your inquiries and concerns as promptly as we can.
Do You Accept Credit Cards?
Yes we accept Visa, MasterCard, American Express and Discover.
What Can I Expect During Your Technician's Visit?
When we are cleaning windows in Lake Elsinore, A Raincross Window Cleaning employee will arrive in uniform and on time.
He or she will take protect your home's interior surfaces such as interior flooring, floor coverings, furniture, etc. and do the same for the home's exterior (protecting landscape, flowers, etc.).
Then we wash your glass surfaces thoroughly removing all foreign matter (dirt, spots, fingerprints, smudges, and water spots) squeegee them to a spot and streak free shine.
Do I Need To Do Anything To Get Ready For Your Technicians?
It would be extremely helpful if you could remove everything off the window sills and immediate area (plants, knickknacks, keepsakes, etc.) so we can keep our focus on cleaning your windows.
Neighboring Areas We Also Serve
Window Cleaning Canyon Lake, CA
Window Cleaning Hemet, CA
Window Cleaning Lake Elsinore, CA
Window Cleaning Menifee, CA
Window Cleaning Murrieta, CA
Window Cleaning Perris, CA
Window Cleaning Temecula, CA