About Raincross Window Cleaning
RainCross Window Cleaning is a family owned company proud of the reputation we have developed for integrity and service.
We feel our character and the quality of work we provide is why many existing clients refer us to their close friends and family.
We are small enough to handle the simplest of jobs yet large enough to clean the windows on large multi-story buildings (like La Sierra University Dorms, Residence Inn's, and a number of buildings you are likely familiar with).
We have lived in the Inland Empire area for 20 years and have established deep roots in the community and are members of the Riverside Chamber of Commerce.
We do things right.  This is our business. We don't work out of our home, we have a real office and are completely licensed & insured.
In short we are reputable; the kind of people you would want as neighbors and the kind of people you will enjoy doing business with.
We hope you will give us an opportunity to earn yours and provide such a good experience you will want to refer us to those that matter to you.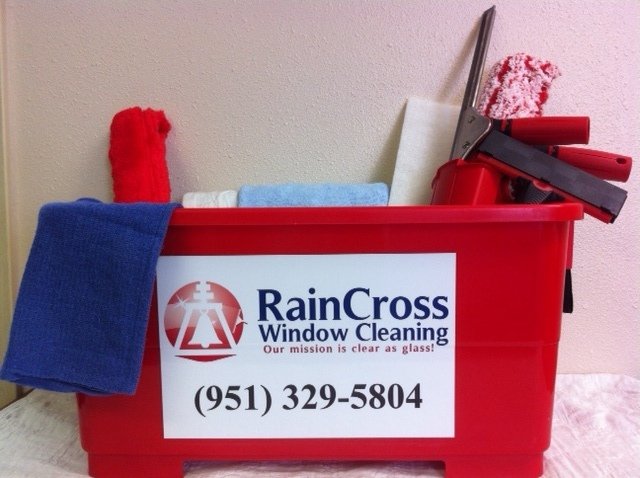 Safety
We have an extensive safety program and we take it seriously. If we need special equipment to complete a job we will not start until we have equipment on-site. Our employees are trained in boomlift, harness, and even the highrise! Let that gave you peace of mind that we will not put ourselves at risk on your job-site.

Scheduling
We offer flexible scheduling based around customer preferences. We will work with you to find what works best to keep your windows looking clear and clean for the best possible prices.

Rain Policy
We don't like to sit at home just because the weather man said there's a 20% chance it might rain, time is money. We pledge that if it rains within 2 weeks of your window cleaning service, we will come back free of charge and touch up your windows if they are in need of attention.
At Raincross Window Cleaning, we understand the importance of clean and sparkling windows.
We are a premier window cleaning company serving the Inland Empire and its surrounding areas. With our exceptional service and attention to detail, we strive to make your windows shine and enhance the overall beauty of your home or business.
Our team is composed of highly skilled and experienced professionals who are passionate about delivering outstanding results. We take pride in our meticulous approach and utilize the latest techniques and equipment to ensure your windows are cleaned to perfection. Whether you have a residential property, commercial building, or industrial facility, we have the expertise to handle any window cleaning project with efficiency and excellence.
We believe in building long-lasting relationships with our clients, and customer satisfaction is our top priority. We value your time, which is why we always arrive punctually and complete our work within the agreed-upon timeframe. Our team provides personalized service tailored to your specific needs.
As a family owned business we are proud of the reputation we have developed for integrity and service.
At Raincross Window Cleaning, we prioritize safety above all else.
We adhere to strict safety protocols to ensure the well-being of our team and your property during our service. Our professionals are fully insured, bonded, and trained in the latest safety practices to guarantee a secure and worry-free window cleaning experience.
In addition to our exceptional window cleaning services, we also offer a range of related services to meet your comprehensive cleaning needs. This includes gutter cleaning, pressure washing, and solar panel cleaning. By choosing Raincross Window Cleaning, you can rely on us to provide a complete solution for all your exterior cleaning requirements.
We are proud to be a based out of and serve the Riverside community and are committed to contributing to its beauty and cleanliness. Our company is built on integrity, professionalism, and a strong work ethic. When you choose Raincross Window Cleaning, you can expect outstanding service from a team that genuinely cares about your satisfaction.
Thank you for considering Raincross Window Cleaning for your window cleaning needs. We look forward to the opportunity to serve you and create a brighter, clearer view for your home or business. Contact us today for a free estimate or to schedule an appointment. Let us make your windows sparkle!
Contact Us At (951) 329-5804
So We Can Discuss Your Specific Needs